Tayler Harris, Nick Maietta Complete USA Weightlifting Board Of Directors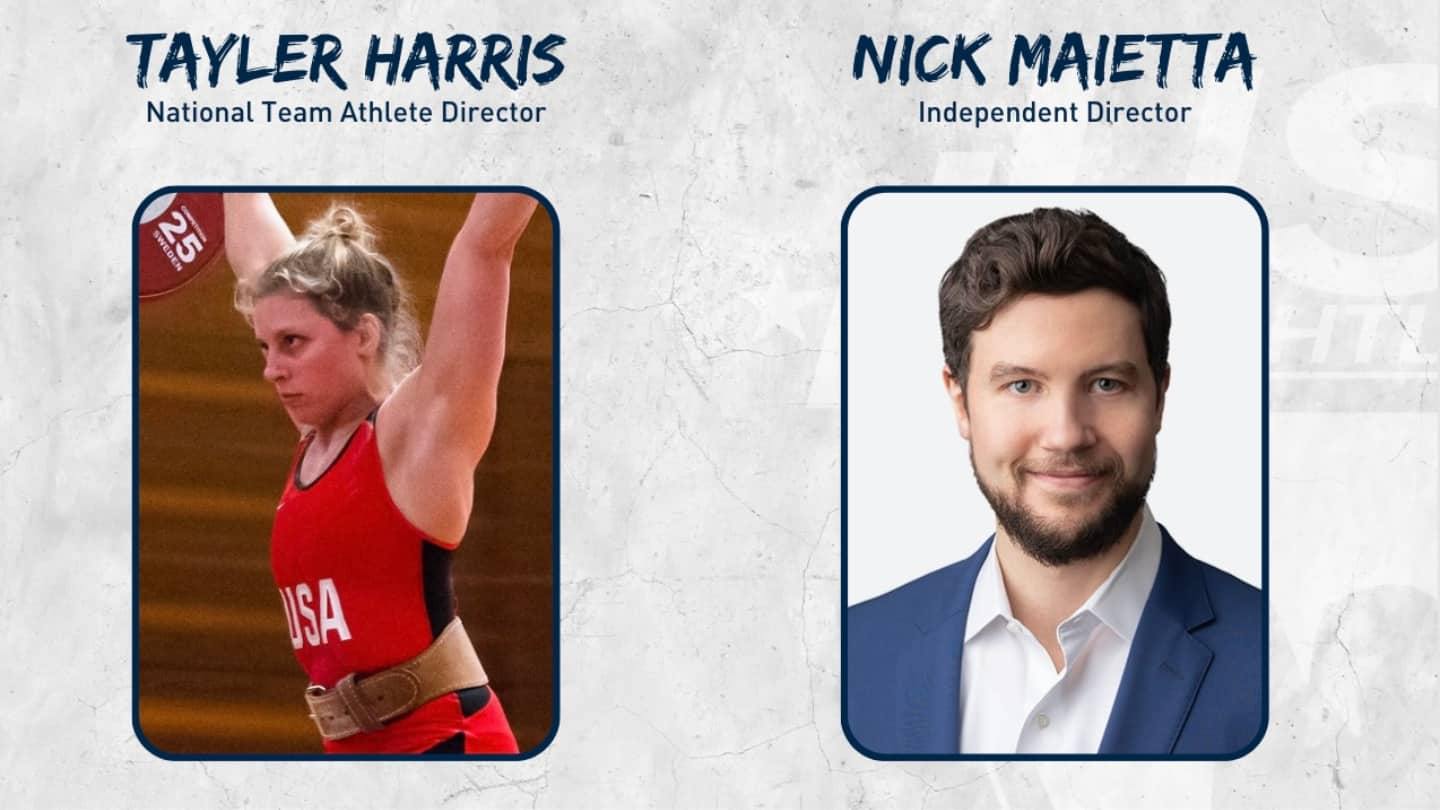 COLORADO SPRINGS, Colo. – USA Weightlifting today announced the election of Tayler Harris and reelection of Nick Maietta to the USA Weightlifting Board of Directors. They began their current terms on Jan. 1 and will serve through Dec. 31, 2026.
Harris, who along with John McGovern serves as a National Team Athlete Director, joined the board just a few weeks after setting three masters world records at the 2022 IWF Masters World Championships in Orlando, Florida. At her first masters worlds, Harris made five of her six lifts, set personal records in the clean & jerk (115kg) and total (203kg), and won gold in the women's 71kg (35-39 age group) – breaking the previous world record for total by 10 kilograms. Harris had previously represented the U.S. three times, earning silver at both the 2018 International Qatar Cup and 2019 British International Open and finishing fourth at the 2019 Las Vegas International Open.
"I am grateful for this opportunity to represent my peers on the USA Weightlifting Board of Directors as the National Team Athlete Director," Harris said. "I plan on protecting the interests of the athletes by being an active voice and ensuring the future of our sport is secure. After a decade of competing in the sport and representing Team USA, I feel I have a unique perspective of what athletes want from their National Governing Body as I have relationships with athletes from the grassroots to elite levels to inform my representation."
Giving back to the sport is nothing new to the North Carolina resident, who serves as president of the Carolina Weightlifting State Organization and is an athlete representative on the USA Weightlifting Technical Commission. A graduate of University of North Carolina Asheville, Harris has worked in marketing and e-commerce the past six years. She was elected to the board by a group of her peers: athletes who have represented the U.S. at the Olympic Games, Pan American Games, IWF World Championships or Pan American Championships over the prior 10 years.
Harris filled the position formerly held by Jessica Lucero, who was one of the two inaugural National Team Athlete Directors on the board from 2021-2022. Now a USA Weightlifting Level 2 Coach with Vero Beach Weightlifting, Lucero has competed at four senior-level world championships, three Pan American Championships and the 2019 Pan American Games.
Maietta continues as Independent Director, alongside Shameeka Quallo, a role which he first served from 2019-2022. After being put forth by the Nominating and Governance Committee, he was reelected by the board in late December.
"I thank the board for placing their trust in me to serve a second term as an Independent Director," Maietta said. "I am honored by this opportunity and look forward to collaborating with my fellow board members and stakeholders to achieve USAW's mission and ensure our place in the Olympic Movement."
A lifelong athlete and a technology lawyer by training, Maietta's professional experience includes management consulting and business development. The Washington, D.C., native holds an engineering degree from the Massachusetts Institute of Technology, Master of Business Administration from Harvard Business School and Juris Doctor from Harvard Law School. Maietta is also a U.S. Marine and served in Afghanistan during Operation Enduring Freedom.
The USA Weightlifting Board of Directors consists of 12 directors, two each for the following categories: At Large, Coach and Technical, Elite Athlete, Grassroots, Independent, National Team Athlete. Board members serve staggered terms, with elections for six roles occurring every two years; Harris and Maietta's were the final elections held for the 2023-2026 term.
The 12-member board is listed below, with role and current term included.
Erin Andica, Elite Athlete Director (2021-2024)
Jordan Cantrell, Elite Athlete Director (2021-2024)
Michael Choi, At-Large Director (2021-2024)
Andy Coggins, Grassroots Director (2023-2026)
Mario Dispenza, Coach and Technical Director (2023-2026)
Tayler Harris, National Team Athlete Director (2023-2026)
Nick Maietta, Independent Director (2023-2026)
John McGovern, National Team Athlete Director (2023-2026)
Shameeka Quallo, Independent Director (2021-2024)
Jenny Schumacher, Grassroots Director (2021-2024)
Sara Soto, At-Large Director (2023-2026)
Sally Van de Water, Coach and Technical Director (2021-2024)
USA Weightlifting, a member of the United States Olympic & Paralympic Committee (USOPC) and the International Weightlifting Federation (IWF), is the national governing body for the Olympic sport of weightlifting in the United States. USA Weightlifting's mission is to enable U.S. athletes to achieve sustained competitive excellence in Olympic competition and to promote and grow the sport of weightlifting in the United States. For more information, visit
USAWeightlifting.org.