Weightlifting Program At Northern Michigan University To Discontinue
by Northern Michigan University & USA Weightlifting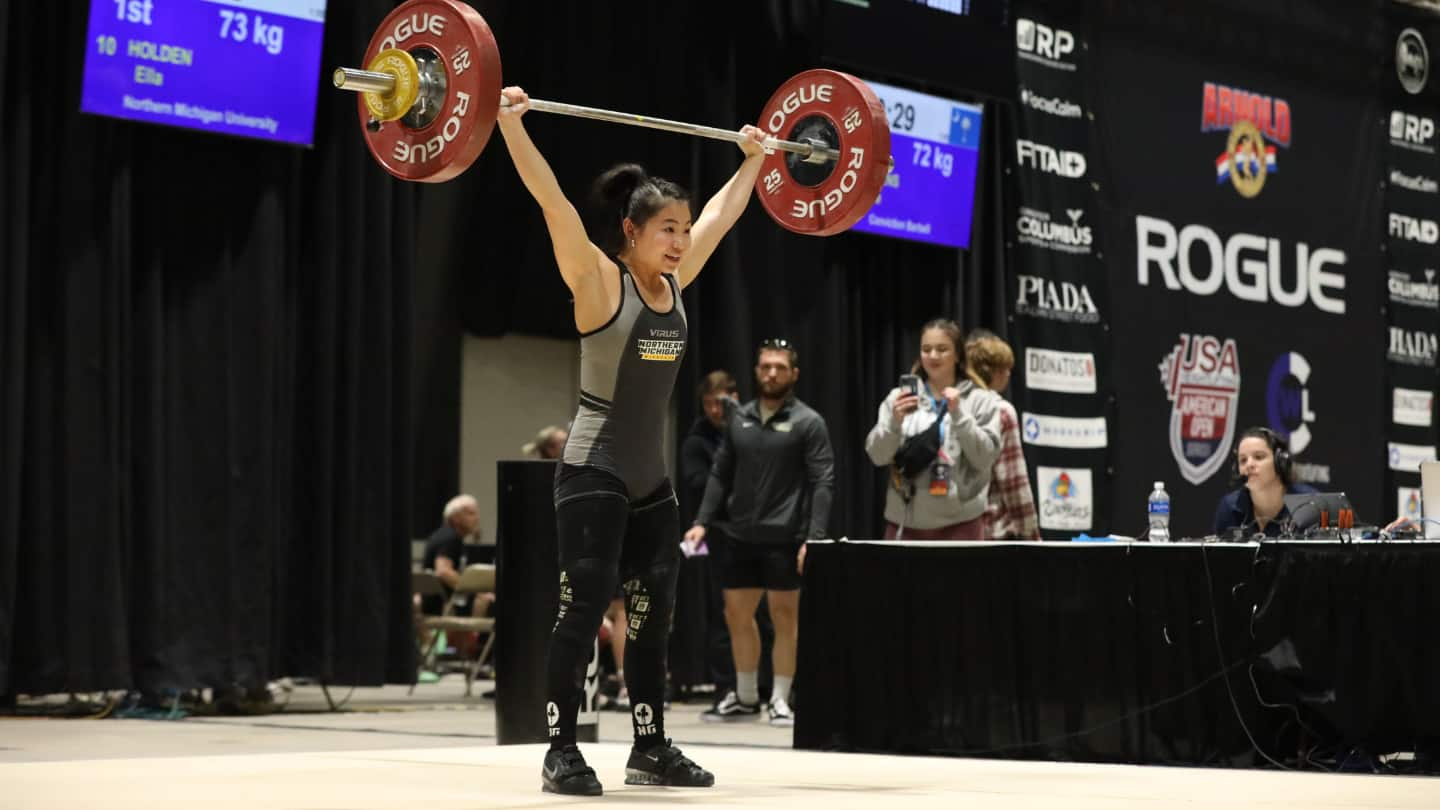 Ella Holden of Northern Michigan University competes at the 2022 USA Weightlifting National University Championships in March 2022 in Columbus, Ohio.
MARQUETTE, Mich. – Northern Michigan University and USA Weightlifting jointly announced today the discontinuation of the NMU campus-based men's and women's weightlifting program, effective May 6, the last day of NMU's winter semester. This is a result of a mutual agreement to wind down the relationship.
Eleven men and eight women compete as members of the program, which started at NMU in 2003. The team is coached by Tyler Depuydt, who took the program's reins in 2019.
Both organizations indicated that the well-being of the student athletes is the first priority. NMU Athletic Director Rick Comley stated that Northern will continue to honor all of the team members' current scholarships through their academic programs. USA Weightlifting will continue to support current and future competitive weightlifters at the collegiate level, including through the 45 colleges and universities that offer intramural, club or varsity weightlifting teams.
"We're proud of the work these student-athletes have done to compete at an elite level, both nationally and internationally, as well as to train in the classroom for their careers after weightlifting," said Comley. "Northern will continue to support any of the team members regarding their goals to attain their NMU degrees."
USA Weightlifting appreciates the long history NMU has had with the program, and NMU shares that sentiment. However, the dynamics of the sport have changed substantially, and the national governing body has changed its funding and training operations over the years since the original agreement with NMU was signed. With that agreement coming up for renewal, it made sense to make the change at this time, according to USA Weightlifting CEO Matt Sicchio.
"We are grateful for the role Northern Michigan University has played in helping develop weightlifting at the university level for the past 20 years," Sicchio said. "While our partnership with NMU is winding down at the end of this semester, we look forward to continuing to grow and support collegiate weightlifting through other avenues."